Mecomb
Kompleks Kejuruteraan Tractors,
1, Jalan Puchong,
Taman Perindustrian
Puchong Utama,
47100 Puchong,
Selangor, Malaysia.

+603-80688000

+603-80688102
helpdesk.mecomb@simedarby.com
Brookfield Rheometer
Scientific --- Process ---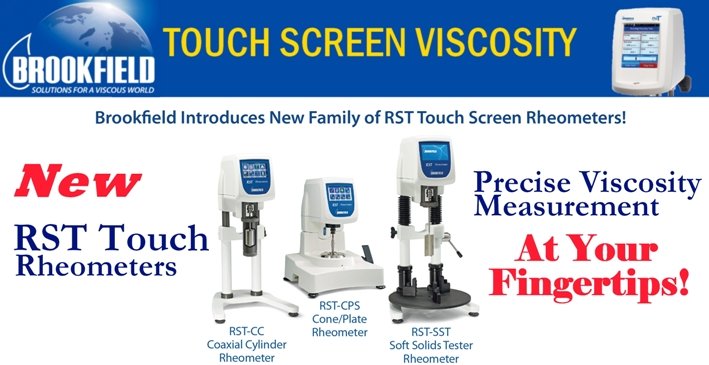 Laboratory Rheometer


Rheological evaluation through controlled stress measurement offers superior viscosity profiling, thixotropic response, yield stress determination and Creep Analysis. The Brookfield R/S Rheometer offers both controlled rate and controlled stress measurement. Available with cone/plate, plate/plate, or coaxial cylinder measurement geometry, the R/S Rheometer offers powerful flow characterization tools including ramp, loop, and single point testing. A wide range of shear rate, shear stress, and torque provide flexible flow analysis including creep and yield measurement. The R/S Rheometer is designed to accommodate the high throughput required of quality control laboratories. It also offers the sophisticated flexibility required of research environments. The R/S Rheometer provides cost effective, worry free operation for a variety of laboratory applications



DV3T Rheometer
Our sophisticated, yet affordable rheometer, combines comprehensive viscosity testing with yield stress measurement capabilities. With a convenient touch screen and many other features, it's obvious that the DV3T offers the most advanced user experience in viscosity testing and measurement at a much lower cost than other rheometers in its class.





RST Controlled Stress Rheometer
Brookfield's high end, touch screen rheometer provides complete viscosity characterization of your material at defined shear rates and shear stress. Built-in temperature control is also available.





RST Soft Solids Tester
Brookfield's high end, touch screen rheometer uses vane spindle geometry in both controlled stress and controlled rate modes to characterize creep behavior as well as yield stress and viscosity profiles.



For further information please refer link
www.brookfieldengineering.com
Contact
Mecomb Malaysia Sdn Bhd
Lot 20, Jalan 225,
46100 Petaling Jaya,
Selangor, Malaysia.
Tel: 603 7874 3422
Fax: 603 7625 0868
Email: brookfield@simedarby.com