Mecomb
Kompleks Kejuruteraan Tractors,
1, Jalan Puchong,
Taman Perindustrian
Puchong Utama,
47100 Puchong,
Selangor, Malaysia.

+603-80688000

+603-80688102
helpdesk.mecomb@simedarby.com
ATAGO
Scientific --- Process ---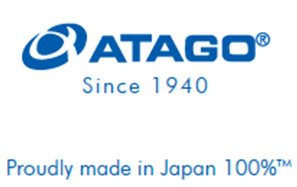 Established in 1940, ATAGO has continuously made strides in the research and development of a wide variety of optoelectronic products, mainly refractometers. ATAGO products are used in a variety of industries; from food and beverage processing, to petrochemicals and metalworking. ATAGO has established our reputation as a trusted brand and enjoys the fullest confidence of end-users not only in Japan but also in 154 countries worldwide. As new regulations and requirements are imposed in the marketplace, our competition with other companies is expected to become more fierce. Being true to our mission statement: "Create and Advance in Consonance," ATAGO is devoted to making strides in the research and development of scientific instruments to meet the ever-changing demands of our clientele. We are utilizing generations of cumulative experience and technical abilities, based on the original studies of "Dr. Abbe," the father of all refractometers, to develop new innovations and advancements that continually redefine the forefront of refractometer technology.

Laboratory


ATAGO Digital Bench-top Refractometers are designed to be highly accurate and provide reliable measurements while facilitating a simple measurement method for the operator. When compared to analog and Abbe Refractometers, the large digital readout makes reading the measurement value faster and easier.



ATAGO's Abbe Refractometers are highly reliable instruments which measure Refractive Index. Compared with other types of refractometers, the Abbe refractometers are capable of measuring liquid and solid samples such as plate glasses, plastic sheets, and other solid films.

Refractive index or Abbe number ( νd or νe ) can be measured at different wavelengths ranging from 450 to 1,100nm.
The DR-M2 digitally displays measurement result of refractive index or Abbe number on the LCD.
Measurement can be achieved by matching the boundary line with the intersection point of the cross hairs.
ATAGO's new polarimeter offers robust performance and ultimate efficiency in small footprint.
Thanks to improvements made in structural design, the POL-1/2 needs only half the space of a conventional model.
The space-saving design promotes installation flexibility.
A lightning-fast response time of 60° per second optimizes operational efficiency.
The optional Peltier temperature control unit delivers perfectly temperature-controlled measurements. This Peltier temperature control unit does not require the use of water.

In-line
These in-line models can be incorporated in piping of manufacturing plants, liquid mixing devices, and washing apparatuses to continuously measure the concentration of various liquids.
They are suitable for use in the control of mixing, concentration, fermentation, and control of the concentration of water-based or alkali-based detergent, etc.
For further information please
refer
link
Contact
Mecomb Malaysia Sdn Bhd
Lot 20, Jalan 225,
46100 Petaling Jaya,
Selangor, Malaysia.
Tel: 603 7874 3422
Fax: 603 7625 0868
Email: atago@simedarby.com